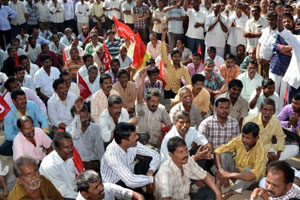 Life in the textile town of Sircilla on Tuesday came to a standstill following the indefinite strike launched by powerloom weavers demanding higher wages. All 36,000 and even 20,000 looms and weavers were closed participated in the strike.
The powerloom weavers were demanding wage increases from 7 existing paise per 10 photographs of 30 paise per 10 photographs of cloth, eight hours in a shift and 8.33 percent bonus.
The busy streets wore a deserted look as the strike had its impact on related sectors dyeing and strain units.
Powerloom workers union affiliated to AITUC president Samala Mallesham said they conducted four rounds of talks with the owners of the looms, but in vain. "The authorities of Income and Labour Department had also intervened, but the owners did not respond. We are forced to go on strike at the expense of our salaries," he added.
Said powerloom weavers staged a dharna outside the office of RDO in Sircilla Tuesday. The weavers were awaiting the arrival of the Minister of Informatics and Panchayat Raj K. Taraka Rama Rao in the protest camp, but the minister was busy he did not come.