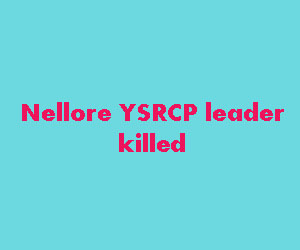 A popular leader YSR Congress Party Nellore district and practicing lawyer Narendra Allam was killed by unknown assailants in a busy thoroughfare in the city of Nellore Wednesday night.
Narendra was rushed to hospital by locals after the criminals stabbed with knives but had succumbed to injuries late in the evening.
The murder shocked over the peaceful village of Nellore leading observers to wonder if this would lead to a new era of political assassinations in the city.
Narendra used to enjoy the land settlement and police can not determine whether the murder was political or personal.