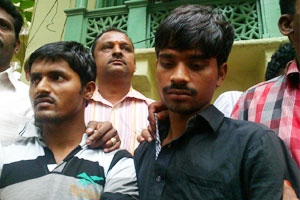 Hyderabad: Police Langar Houz on Friday claimed to have cracked the case of theft where ornaments of gold, diamonds, gemstones and cash were taken from the home of businessman, Sujit Agarwal, 44, with arrest of two people. The police had registered a case of theft on Thursday. In the complaint, Sujit said that he, along with his family members went to his friend's house in Banjara Hills for New Year celebrations on Wednesday night and when they returned home early in the morning the next day, they found valuables missing from the almirah.
Addressing media persons on Friday, DCP (W) A Venkateswara Rao said: "We have cracked the case within 24 hours with the arrest of Anmol Mukya, 27 and Kishan Mukya, 19, both natives of Bihar State Dharbhanga and have been residing in the area of Banjara Hills for quite some time and has worked in the house of Sujit as servants in the past. "
Rao said three teams were formed to investigate the case. During investigations, the team led by Additional Inspector G Kishan Anmol arrested later the name was revealed Kishan. Acting on a tip-off, were apprehended in Uday Nagar near Banjara Hills on Friday 5am. "During interrogation, they confessed that they broke the bars and committed robbery with ease," the DCP.