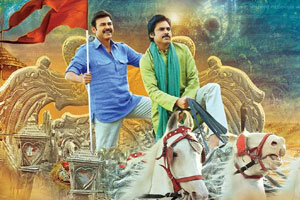 We have reported a while back that the distribution rights in the United States 'Gopala Gopala' were purchased by 3.5 million rupees.
Usually used to be a tough fight between exhibitors movie star of a hero.
Gopala Gopala is not only a multistarrer, but also one of the films most aniticapted 2015.
Still, most exhibitors are not interested in buying the film because Shankar 'I'. Both films are scheduled to hit theaters Sankranti.
"I" will be releasing about 450 theaters in the US and this is a record for an Indian film. Thus, exhibitors have clearly stated the dealer who can buy 'Gopala Gopala', only if the film premieres on January 9, 2015.
They explained their concerns and said they did not want to bet your money buying 'Gopala Gopala "when" I "is releasing Shankar on the other side.