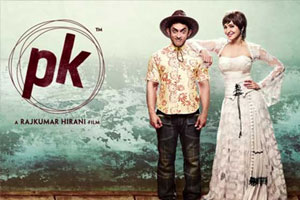 Latest release "PK" Bollywood superstar Aamir Khan became the highest grossing Bollywood film of all time in India. PK collected more than Rs. 276 million rupees in two weeks of its release.
Expectations Aamir Khan to "PK" were outrageous and the film certainly has delivered.
PK has overcome early Aamir Khan film Dhoom: 3. Before PK, Dhoom 3 and Chennai Express, had also earned about Rs. 265 cr and Rs. 258 cr in domestic, market respectively.
Trade analyst Komal Nahta took to Twitter to share the latest information.
Directed by Rajkumar Hirani, 'PK' revolves around the concept of blind belief and holy men. The film has its share of criticism from some religious groups calling for a ban. The film had an impressive opening, but recent controversies had affected his collection in the last couple of days. Religious groups rioted in places like Ahmedabad and Bhopal, breaking theaters that were screening the film and demanded a ban on "PK".
In Agra, protesters Aamir Khan accused of double standards and suggested that the actor moved to Pakistan. However, it seems that the film has collected.