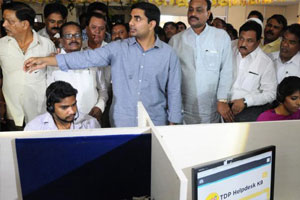 Telugu Desam leader Nara Lokesh Friday launched a call center in the TDP office here to receive complaints from party workers.
Declaring open, Mr. Lokesh, who is the coordinator of TDP Workers Welfare Fund, said it was the first time that a political party has launched a call center exclusively for their workers. He said 22 employees would man the call center for 12 hours from 8 am every day to receive calls from 7306299999. workers "will be available to solve any problems of workers," he said.
In reference to the registration of 54 lakh members, the membership campaign said it was only the base. The responsibility of the party towards workers begins now. He said the party always stand by the table and the call center was the first step in that direction. Before Sankranthi, each worker party membership card would be given to the helpline number inscribed on his back. He said insurance coverage also entered into force for members from the New Year. Expressing his anguish over the death of two workers in road accidents in Telangana state, told relatives the insurance claim within 10 days pay.
Deputy Chief Minister N. Chinnarajappa praised Mr. Lokesh to launch call center for the welfare of party workers.