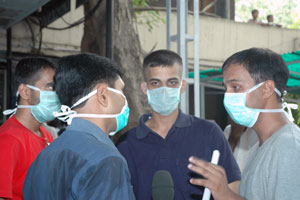 Hyderabad: The sudden outbreak of swine flu cases in the city is giving sleepless nights to residents of Hyderabad. There is a dramatic increase in the number of patients getting admitted in government hospitals and various super specialty hospitals in recent weeks.
According to unconfirmed reports, more than a dozen patients succumbed to H1N1virus just this month. However, official sources claim that only three people died during the last two months. Even the state health department two days ago declared that the deaths are reported as swine flu deaths were due to reasons other than H1N1. But on Friday, a female patient named Swarajyam, 25, of Kukatpally was the most recent case being admitted to Gandhi after testing positive. Another five patients with symptoms of swine flu are also being treated in Gandhi said Dr. K Narsimhulu, the nodal officer for swine flu.
Four suspected cases of swine flu are treated at the Osmania General Hospital. Meanwhile, a 45-year-old from Kadapa has tested positive for the flu. This marks the spread of the virus for the first time places in Andhra Pradesh this season. The woman is being treated at Care Hospital, Banjara Hills after tests conducted at the Institute of Preventive Medicine (IPM) showed positive.
According additional AP director of Health (Disease Management Preventive) Dr. Gita Prasadini, five people died due to swine flu in AP this year. These five deaths include two people from Visakhapatnam, one for each of the districts of Krishna, Kadapa and Kurnool.
She said private hospitals were not sharing information on swine flu cases being treated by them, even after being told to do so. They only treat the patient and not care about their families. If the government provides information, prophylactic Tamiflu was administered for 10 days as a preventive measure, he added.
Accusing the state government to hide the real facts about the prevalence of swine flu in the entire state of Telangana, Telangana Congress on Friday demanded Chief Minister K Chandrashekhar Rao convene a meeting of all parties to discuss the problem immediately.
Speaking to media persons on the premises of the Assembly here, the Congress MLC MS Prabhakar said that there were at least 10 deaths due to swine flu, and hundreds of people were affected by the diseases. However, instead of being realistic, the state government was trying to escape responsibility by issuing a misleading statement by the Director of Health and Family Welfare, Dr. P Sambasiva Rao. They argued that public hospitals were not equipped to handle cases of swine flu because they lack trained personnel and necessary medicines.
He said the accusation of private medical director were creating panic among people regarding the quantities of swine flu to insult the whole medical profession. He regretted that the state government was unwilling to accept reality, even after the death of at least 10 people due to swine flu. He urged the Chief Minister to convene a meeting of all parties at the earliest.