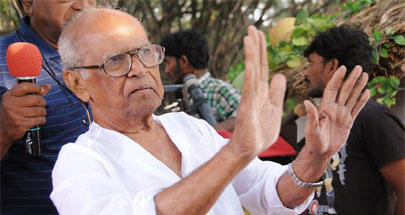 The veteran director Bapu no more. He died on August 31 after battling the disease in recent weeks. Born in 1933, the original name of Bapu was Satthiraju Lakshmi Narayana and raised in Narsapur, West Godavari in Andhra Pradesh. He began his career as a cartoonist and quickly rose to fame. Later, he dabbled in painting, writing for several years and his work, especially his painting 'Bapu Bomma' Ramayana series and left an indelible mark on the Telugu population worldwide.

When he was 14, he first collaborated with his old friend, Mullapudi Venkataramana Open and in the span of nearly seven decades, the duo created several literary works that captivated generations. Later, continued their collaboration in movies and works like Sampoorna Ramayanam, Seeta Kalyanam Ramanjaneya Yuddham and were hailed as classics.

Bapu is also a receipient of many awards and honors including Padma Shri, two National Awards Muthyala Muggu and Mr. Pellam respectively, apart from two Filmfare Awards and a Lifetime Achievement Award for his contribution to cinema. His last major work was Balakrishna, Nayanthara starrer Sri Ramarajyam, published in 2011.