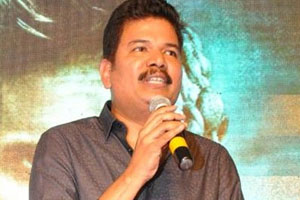 Shankar, who attended the Telugu audio launch of 'I' in Hyderabad, has praised manager SSRajamouli and management skills.
He said "I became a fan of Rajamouli after seeing 'Magadheera' and after seeing 'Eega', I became an even bigger fan. I am eagerly awaiting the release of 'Baahubali'. I saw the videos that make of the film. Technically, the film is being done in international standards. "
Rajamouli Shankar also praised the event. "When I was working in Chennai, our assistant directors used to sit and discuss Shankar song 'Mukkala Mukkabula' with Prabhu Deva and how he has filmed a particular shot. Because we did not have much knowledge about technology then. but even now, after becoming a director who could not understand how he did some shooting. Shankar is a director who is far ahead of everyone. I am sure that 'I' is a visual feast. I am waiting to see the movie "Rajamouli said.